Bio-Genetic Muscle Weight Gain System Order Page
Yes Lee... with this package, I understand that I not only receive the popular "Bio-Genetic Muscle Weight Gain System" ebook, but I also receive the FREE Bonuses valued at over $150 during this limited time bonus special for a total one-time fee of only $37!
I understand also that if I am not satisfied with the package, I have an 8-week unconditional money- back guarantee.


Want an Even Better Deal?
Upgrade to the Deluxe Package, and you'll also receive the incredible
"Blast Your Bench" program for a 45% savings!
The "Blast Your Bench" program is a 'Step-by-Step' strength and muscle building system – you'll learn exactly how to blast through strength plateaus and increase your max bench press by as much as 50 pounds in the next 3 weeks – GUARANTEED!

The regular retail price of The "Blast Your Bench" program is $37, but if you purchase it today in combination with the "Bio-Genetic" program, you'll receive this awesome strength and muscle building guide for only $20!
"Gained 100 lbs. On His Max Bench Press!"
| | |
| --- | --- |
| | At the age of 32 I decided to get back into weight lifting and started searching websites for benching programs and squat programs as my max bench of 205 was pretty shabby. I came across the Blast your Bench and Blast your Squat routine and was skeptical at first. |
Well after months of working out with no real gains I decided to go ahead and purchase the Blast your Bench program. After 3 weeks I was amazed to see that I gained 30lbs in my max Bench! I then moved straight to the Blast your squat routine and went from a 305 Max squat to a 385 Max squat in 3 weeks also! I was amazed at how well these two programs worked!

Since using your program and the other articles on your website for my lifting I've gained 17lbs of lean muscle mass and lost 6lbs of fat. I'm 5'9" and was 180lbs but now I'm 192lbs, which has been solid muscle gains!

Needless to say, thanks Lee for the Program. The bonus is my wife has commented on how much larger my chest and arms look as well as my legs!
---
Updated: April 15, 2008
"After finishing up my second time through the Blast Your Bench program I decided to re-test my one rep max. I warmed up and then started doing singles with 265 which felt light... moved up to 275, 285, and then said what the heck God, lets go for 305. I put that one up too with somewhat ease. I could have added more weight but wanted to stop to simply play it safe and just be overly ecstatic... here I was somehow putting up 305 when my previous max bench press back in November 2007 was 205."
Shawn Wilson
Winnsboro, TX
USA
The ultimate strength building system finally revealed... These are the same secrets used by those on the inside to get bigger and stronger quickly and easily without any risk.
Inside you'll discover:
Learn what repetition ranges are most effective for packing on muscle mass and making rapid strength gains. Note: it is not as simple as just doing all heavy low rep training either.


Why the time you allow yourself to rest between sets can have a huge impact on your overall muscle growth. Almost no one figures this one out on their own, even though it's been scientifically proven in real world results.


How to decode each and every exercise to determine its muscle building potential. And find out once and for all what the best exercises are for strength and muscle development and which ones are a complete waste of your time.


Find out the real deal about "repetition speed" and how making this simple adjustment can give you an explosive edge for building rock solid muscle and strength.


Learn exactly how much weight to lift during your workouts. No more guess work, the exact weights that you need to lift are outlined based on your current strength levels.


A complete 12 week cycle program that will solidify the rapid gains that you make during the bench press and squat specialization phases and help bring up any weak areas in your physique.
Yes Lee, I'd like to take advantage of the Deluxe Package, and receive The "Blast Your Bench" program for a 45% savings!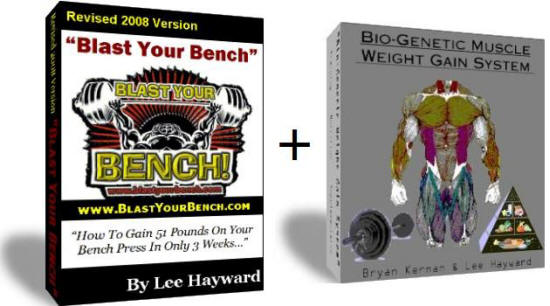 Click Here to Order the Deluxe Package for only $57
---
Lee, I've decided to pass on the Deluxe Package, and go with the standard "Bio-Genetic Muscle Weight Gain System" Package: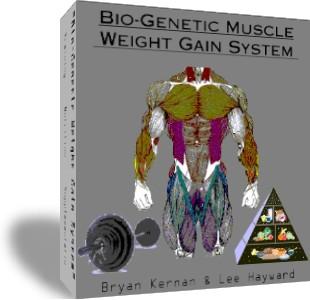 Click Here to Order the Standard Package for only $37
Note: The "Bio-Genetic Muscle Weight Gain System" & The "Blast Your Bench" program are downloadable e-books. No physical products will be shipped. After you order, you will get INSTANT ACCESS to download the e-books and all the bonus reports onto your computer. The e-book format is adobe acrobat PDF, which can be viewed on Mac or PC.


---
Copyright © 1999-2009 Lee Hayward Enterprises. You can read my entire privacy policy. By entering, you agree to the terms. By entering your email address you are also requesting and agreeing to subscribe to my free Bodybuilding Tips email newsletter. You can easily unsubscribe at any time by clicking on the unsubscribe link at the bottom of your emails or by sending an email to Lee Hayward. For my link directory, click here. Total Fitness Bodybuilding Blog.
E-mail: Lee@LeeHayward.com | P.O. Box 13175, Stn. Topsail, CBS, NL, A1W 2K1 | Phone: 1-877-892-7435