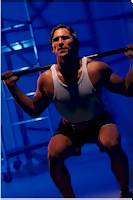 Testimonials:
"Dear Bob,Let me start by saying.....Thanks soooo much!! I have just completed your 12-week UMM program and I am amazed with the results. I am completely satisfied with the changes in my physique. I am simply amazed!! Thanks so much!! Thanks for your UMM program!!!! It worked." Regards, Nadia
"I just finished up week 8 of the Ultimate Muscle Training program. Thanks a lot for a great program. Never before have I made such consistent gains. I've put on 15 lbs of lean muscle mass, and I'm not even finished with the full 12 weeks!"-Jason
"Hey Bob, just finished my fourth week on the Anabolic Diet and the Ultimate Muscle Program. And here I am 15 pounds heavier. Incredible results and great strength gained to go along with it. My bench has gone up 20 pounds. I Appreciate what you've done." --Noah
"Hello Bob, I just finished up the Ultimate Muscle Mass Program from you and it worked absolutely fabulous. I am very impressed with the whole program. I gained 23lbs of pure muscle in 12 weeks, that is amazing... I look and feel great now. Thanks tons!"--Jamie
"Dear Bob, I am extremely thrilled with your program. I have gained 8 pounds in a short amount of time and it is the real thing, not water. I have tried to gain weight for years, nothing was as easy as the Anabolic program along with the Muscle Mass program. (I was amazed at the importance of depriving the body for a short time and the results it yields.) I am getting married in a week and feel great about the change in the way I look. My new nickname at the gym is "Kim the Animal Steel!" Thank you so much!"
--Kimberly
"I just completed the 12 week program and I have gained 15 pounds of lean muscle mass! Thanx for a great program." --Mike
"Hi Bob
Your program is great! I lost 6% fat and stayed a little above my preprogram weight. I'm also lifting more poundage then ever before. Not much, I suppose but I'm about twice your age.Thanks again!" --Steve
"I just wanted to give some feedback on your Ultimate Muscle Mass Training Program. I am finishing up my fourth week and I have gained between 6 and 7 pounds of muscle. The way it is written leaves nothing to chance. I have the 4 week diet program also and it has kicked my body into overdrive." --Matt
"I started your Ultimate Muscle Mass Program 9 weeks ago . . . I have dropped lots of fat as I now for the first time in my life have a full six-pack of abs. I think this is great!! People are constantly commenting on how big I have gotten and girls talk about my muscles or want to touch them! I don't really like all this kind of attention, however it proves to me that I have made some noticeable improvements in the last 3 months. Thanks again for your help!" --Dominic
Everyday people email and call telling me about the great results theyíre seeing with this Program. Itís working for them . . . and itíll work for you!