---
Special Offers and Product Promotions:
Bodybuilding Muscle Building & Fat Loss Combo Package!

Price For All 3: $85.47

Order All 3 Programs and Save!
---
Product Description:
Your First Bodybuilding Competition Training & Nutrition Guide
Click PLAY to see what FLEX Magazine has to say about
"Your First Bodybuilding Competition"
Your First Bodybuilding Competition is a book and DVD package that breaks down the whole competition preparation process into an easy to follow step-by-step plan. It will clear up a lot of myths and misconceptions with regards to competitive bodybuilding and help you confidently step on the contest stage in Your Best Shape Ever!
Here are just some of the things you'll learn about in this program...
Why Should Your Compete In Bodybuilding?


What The Contest Judges Are Looking For?


How A Bodybuilding Competition Is Judged.


How To Perform The Mandatory Poses.


How To Choose Your First Contest.


How To Calculate Your Ideal Contest Weight.


The Real Secret To Fat Loss.


The Difference Between "Lean" & "Ripped".


What To Do 6 Months Out From A Show.


What To Do 3 Months Out From A Show.


What To Do 6 Weeks Out From A Show.


What To Do 1 Week Out From A Show.


What To Do The Day Before The Show.


Sample Eating Plans & Workout Routines.


How To Get Rid Of Body Hair.


Putting Together Your Posing Routine.


Food & Water Intake For The Last Week Before The Show.


Should You Carb Deplete, Carb Load, Cut Water?


Choosing Your Posing Trunks, Tanning, & Posing Oil.


The Weigh-In Before The Show, How To Make Your Weight Class.


How To Pump Up And Get Ready Back Stage.


And Much, Much More...
Just Check Out The Results These People Got
By Following The Strategies That Are Revealed
In "Your First Bodybuilding Competition"...

"Competed In A Fitness Model Competition!"
| | |
| --- | --- |
| | I just got back from the FAME World Championships, as I competed in my first fitness model competition! I placed in the top ½ for my first show ever and was told I should have been in the top 10 if I work on my stage presence. |
I attracted the attention of www.ahfmag.com for a photo shoot that day and was told I have huge potential with some more experience.

Thanks so much Lee for all the pre-contest diet information leading up to my show. I was pleasantly surprised to get such detailed answers to my questions about how to approach my last few weeks with regards to supplementation, water intake, sodium loading, carb depletion and carb loading and some other stuff. You have no idea how I benefited from you guiding me through the guesswork and little details.

Vince DelMonte
Canada

"Got Ripped To The Bone Shredded In Just 6 Months!"
Hi Lee,

I love your website, I have gotten loads of great information and training tips from you!

I was inspired by the pictures of the guys you've helped in the past and wanted to send you my progress pictures as well. I have been following your bodybuilding competition fat loss program and I have attached a couple pictures of myself after 6 months of clean eating and dedicated training. I have gotten pretty ripped up results, especially considering that I have never seriously pumped iron before.

Thanks for all your helpful advice and tips.

Regards,
Dave Mendonca
USA
"Won His First Bodybuilding Contest At Age 60!"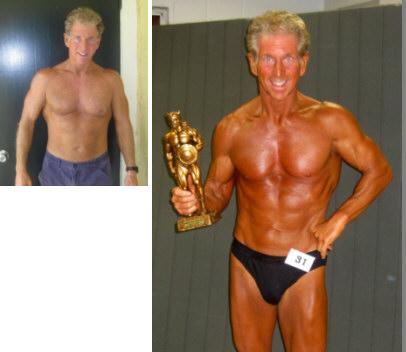 Hi Lee,
I just wanted to say a big thank you for all the valuable information that you share on your website, and particularly your new book "Your First Bodybuilding Competition".
I've been reading fitness and nutrition books all my life and in recent years checking out all the bodybuilding websites online. When I first stumbled upon your website I was very impressed to say the least!
I've always worked out and kept myself in reasonable shape year round. But as I was approaching my 60th birthday I decided that was going to do something totally different and really push myself and see what I could achieve. So registered to enter a bodybuilding contest!
I knew it would be quite a challenge, but I followed your book to the letter. I consider it my Bodybuilding Bible! You covered all facets of competition, from dieting, to posing, and all the fine details of what to do leading up to the contest, and getting ready backstage. It was so in-depth and so complete. You left nothing to chance!
When my big competition day rolled around I was in the best shape of my life and ready to show the judges the results of all my hard work. And it paid off for me because I took home the 1st place trophy in the master's category!
Thanks again Lee!
Sincerely,
George Mueller
"Lost 64 lbs. Of Bodyfat In Only 21 Weeks!"
| | |
| --- | --- |
| | I recently competed in my first bodybuilding competition. I started my contest diet at 242 lbs. and with the help of Lee's program I lost 64 lbs. and got into the best shape of my life. I didn't make the middleweight class like I had hoped, but even as the lightest competitor (178 lbs.) in the light-heavyweight class I still managed to place 3rd. |
I would like to thank Lee for all the help that he gave me during my contest prep. His knowledge and experience really helped ease off the pressure of being a first time competitor. I feel really proud of what I've accomplished and it is amazing how far I have come from where I started.

Again, thanks Lee for your help with everything, it was greatly appreciated and you helped make the whole experience a great one.

Cheers
Doug Croft
Canada
"Won Teenage Bodybuilding Championships!"
Hi Lee,

I've been a frequent visitor of your website for quite sometime. I've used the diet and training information that you have outlined in your program to help me win first place at the NPC South Florida Teenage Bodybuilding Championships as well as first place at the Florida State University Bench Press Championships.
thank you,
Yumon Eaton
USA

"Won 1st Place In A Figure Competition!"
I would like to thank Lee for all of the expert advice he has given to me over the last 4 months as I prepared for my first figure competition. Lee was invaluable to me and his website was an excellent resourse as well. I would recommend it to anyone.

I consulted Lee every step of the way leading up to the competition and not only did he have all the answers, but he responded to all my emails almost instantly.
I truely appreciated the time he took for me as I know he also was in training for the bodybuilding competition (which he won). Congrats Lee on your first place win, and I can honestly say that your help was instrumental in my first place win as well.
Thanks a million!
Lisa Woolgar
Canada
"Won First Place In The Novice Category"
Motivation is a key element to achieve any goal and certainly all the information available in your book and DVD are a great source of inspiration for everyone interested in making real progress with their training regime.

I believe you should always keep your mind open to new ideas and concepts, and Lee's Bodybuilding Training System does so providing you with proven information that will help you to get better, more knowledgable and obtain those results you are aiming for.

Lee has certainly put a lot of time and effort into this and has put together a very high quality competition training system. I've used the information covered in his program to help me win first place in the novice category of my very first bodybuilding contest.

Eduardo Perez-Mawyin
New Zealand
"Packed On 37 lbs. Of Lean Muscle Mass!"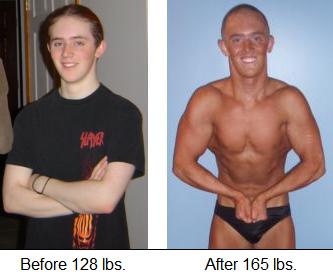 I started working out the age of 20 and weighing only 128lbs. I couldn't even bench press my body weight once! I don't even know what my squat and deadlift were because back then, I never did them. I'm naturally a very small and weak individual.
After a few years of lifting weights, I stumbled across www.LeeHayward.com and I wish I knew about this site sooner because the information he has to offer would have helped me become a lot bigger by now!
Right now my records are:
(keeping in mind, I'm still small framed guy, and not a power-lifter)
Bench Press: 165lbs for 9 reps (at a body weight of 165lbs)
Squat: 245lbs for 5 reps (at a body weight of 165lbs)
Deadlift: 285lbs for 8 reps (at a body weight of 165lbs)
Lee's customized coaching programs have it all! From muscling gaining information, fat loss information, nutrition information, to specific exercise programs with pictures and videos! Lee even covers stuff to help you recover from injuries.
I've applied this information, it actually works, and has definitely contributed to my improved physique. I get relatives noticing that I work out. I've had an ex-girlfriend ask me if I'm on steroids. (She knew how scrawny I used to be!) I'm a baby face, so I look very young... but at the gym when I'm pumped up and wearing a tight t-shirt I've actually been mistaken for a Marine! Which is pretty cool.
Now, I'm at the point where I am an actual bodybuilding competitor. Man that feels good! To be up on stage and just fitting in there is something I'm proud of. And it's cool to know that it's just the beginning... I intend to improve and compete again.
It goes to show that even people like me with no blessed genetics, can literally change their body shape and do it healthy with no drugs required... just hard work and proper training knowledge.
Dustin Mitchell
Michigan
USA

"Lost Bodyfat While Building Lean Muscle Mass"
Lee helped me with my contest preparation for the 2006 NLABBA provincial bodybuilding competition.

From the very start, Lee's helpful information put me on the right track. He provided me with exactly what I needed to get in amazing shape.
He personalized my diet, weight training, and cardio program. And also provided me with lots of support and encouragement for those 'difficult' stretches of the program. I know without a doubt, that Lee helped me achieve more than I could have done on my own. It was awesome working with him.

Lee, I cannot thank you enough for your help!

Best wishes,
Adam Hunt
Canada
"Won The Overall Title In 5 Bodybuilding Competitions!"
I met Lee Hayward in the fall of 1999 and started training with him. With Lee's help I entered my first bodybuilding competition in 2001 and have since competed in 7 bodybuilding contests, winning the overall title in 5 of them.

By working with Lee I have learned so much about proper training and nutrition. I wouldn't be this lean, healthy, and fit without his help. Lee is very knowledgeable and always takes the time to answer my questions and explain everything so it is simple and easy to understand.
If you really want to lose fat, build lean muscle, and get in your best shape ever, Lee's customized diet and training programs are the way to go.
Patricia Crocker
Canada

---
Lee's Blog | Diet Plans | Q & A | Articles | Photos | Links | DVD Shipping & Returns | e-Mail
Copyright © 1999-2010 Lee Hayward Enterprises. You can read my entire privacy policy. By entering, you agree to the terms. By entering your email address you are also requesting and agreeing to subscribe to my free Bodybuilding Tips email newsletter. You can easily unsubscribe at any time by clicking on the unsubscribe link at the bottom of your emails or by sending an email to Lee Hayward. For my link directory, click here. Total Fitness Bodybuilding Blog.

E-mail: Lee@LeeHayward.com | P.O. Box 13175, Stn. Topsail, CBS, NL, A1W 2K1 | Phone: 1-877-892-7435